Coventry Amazon workers make history with first-ever UK strike – we were there to support them
"We can grow this so big. They've done it in America. They've done it in Europe. We can do it here. We are so much better together."

Darren – Amazon worker in Coventry, January 25, 2023.
Wednesday was a historical moment for the tech justice and labour movement in the UK. Workers at Amazon's BHX4 warehouse walked out on strike for 24 hours – the first-ever such strike in the UK.
The first step is always the hardest – and Coventry has now shown that it can be done. That is a mighty blow against Jeff Bezos and his cronies, who continue to claim there are no problems in their UK Amazon warehouses.
It is an incredible achievement for the workers who bravely took this action. Watch the moment they walked off the shop floor and onto the picket line here:
We salute the incredible courage of these workers, standing up to Amazon's exploitation, bullying and union-busting tactics. Here's how things looked in the evening:
It marks the culmination of ten years' worth of organising by the GMB union in Coventry and elsewhere in the UK in Amazon warehouses. Workers paid big tribute to GMB at yesterday's picket – and it was hugely deserved.
Watch GMB provide an honour guard to workers as they finally walked back into the warehouse shortly before midnight, to be back on shift for 11:59pm:
We're so proud to have worked with the magnificent two Stuarts, Amanda, Rachel and everyone else at GMB who have demonstrated the power of guts, hard work, solidarity and worker organisation in the face of one of the most powerful companies in the world.
We were proud to play our own small role in supporting the strike, with a presence throughout the 24 hour picket after accepting the GMB's kind invitation to acting as legal observers to the strike.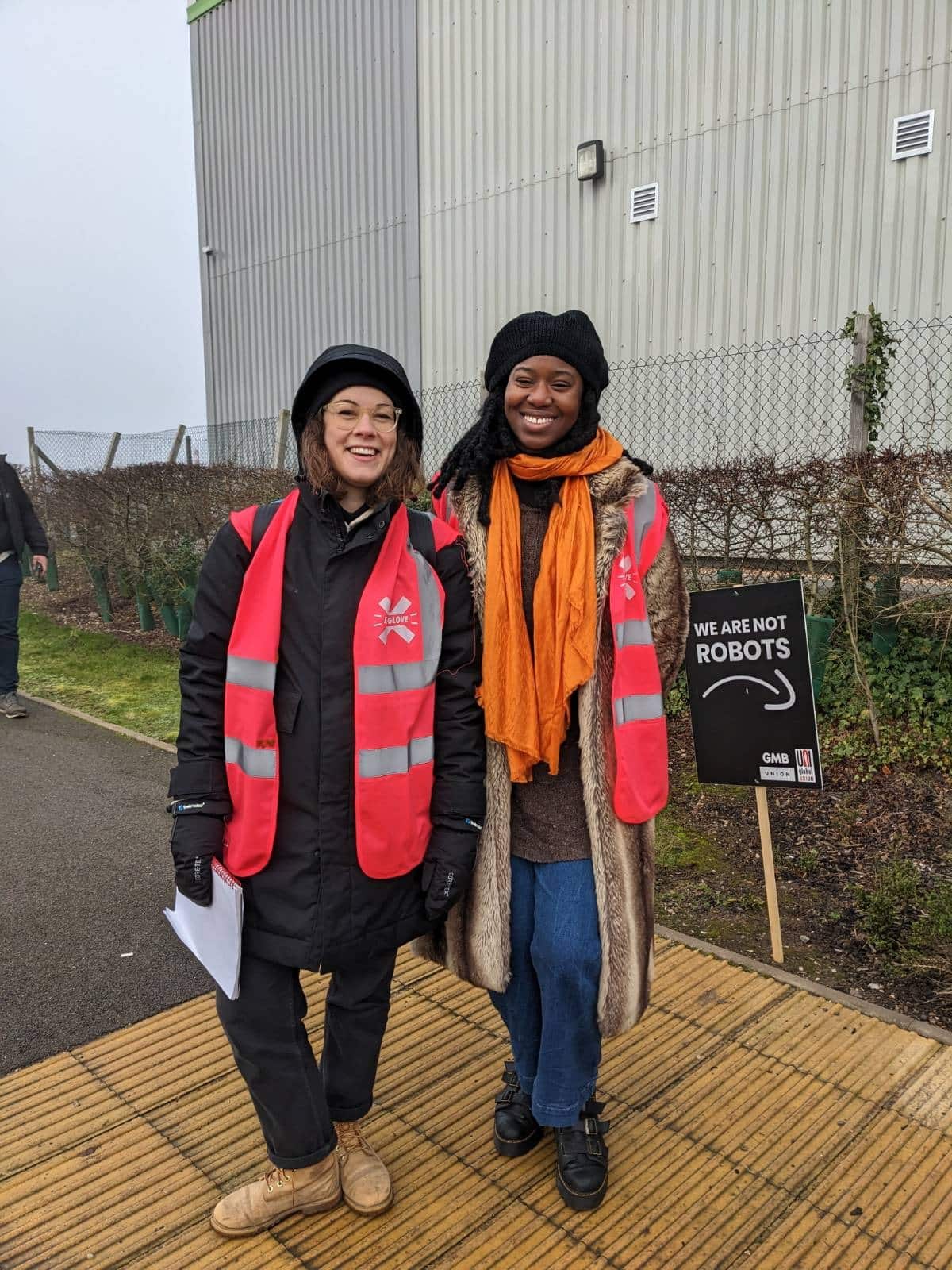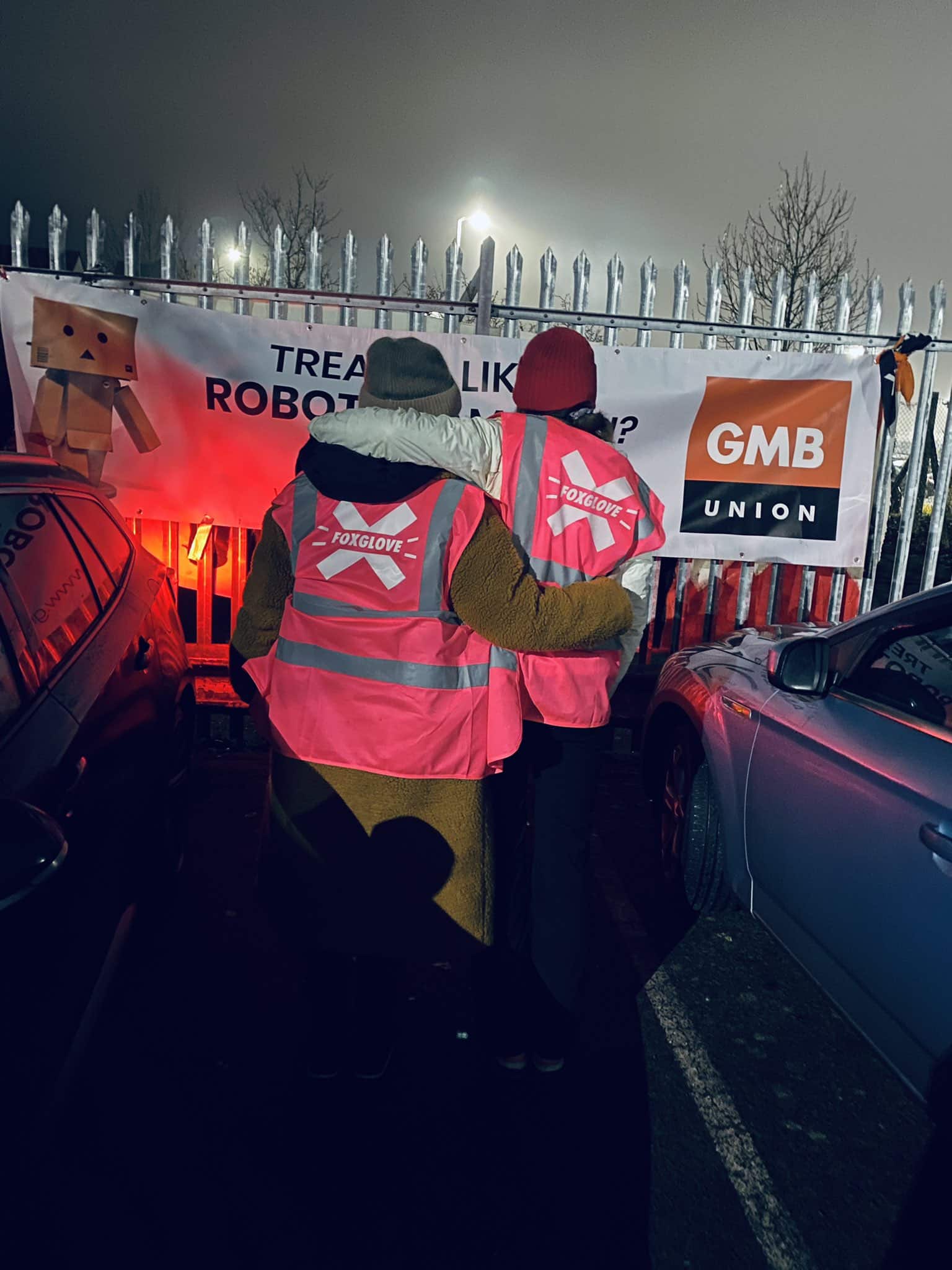 And of course, we sent along the hot drinks van to make sure everyone stayed warm and caffeinated into the evening!
Here's our Tom and Stuart from GMB with our banner: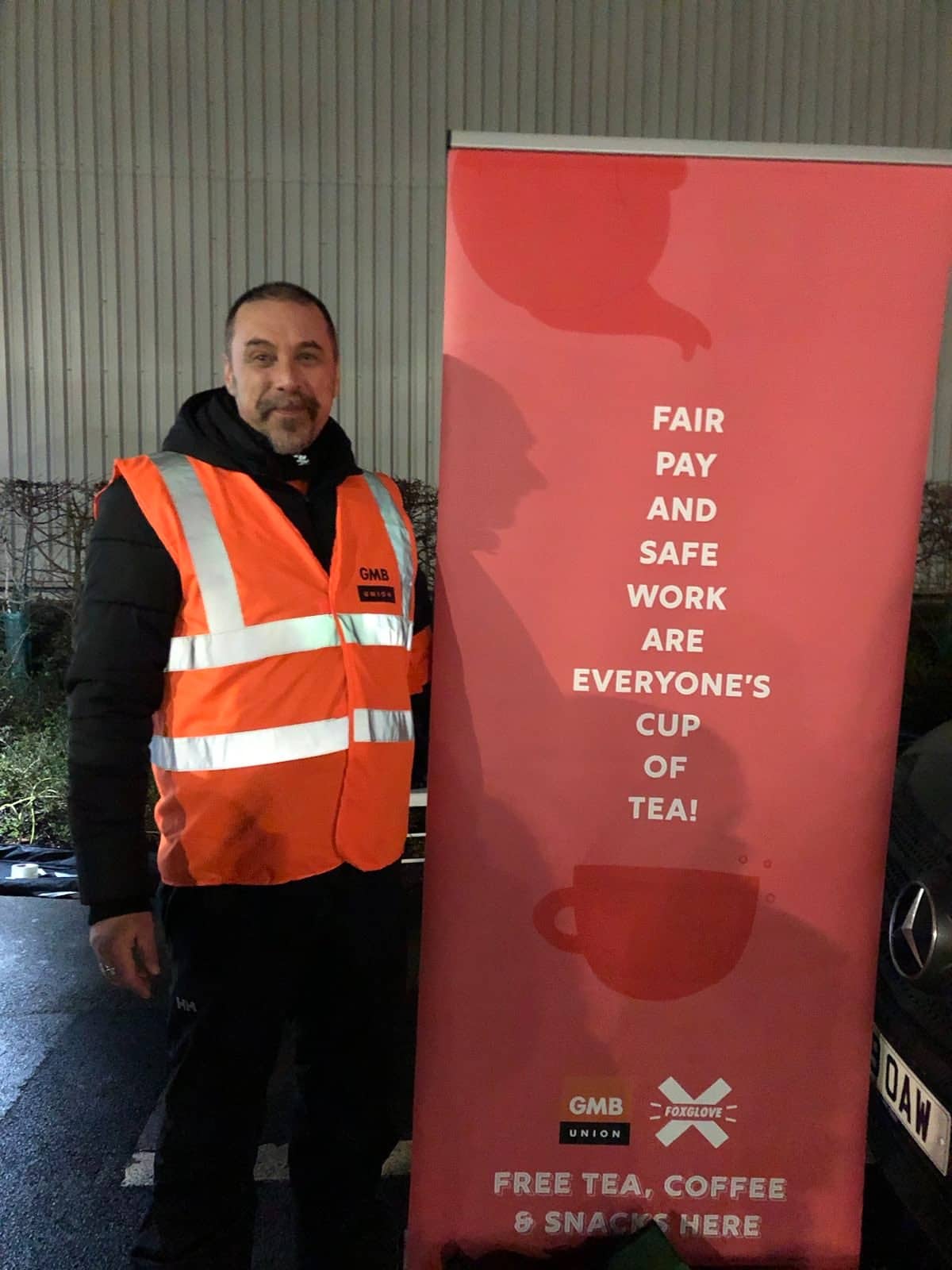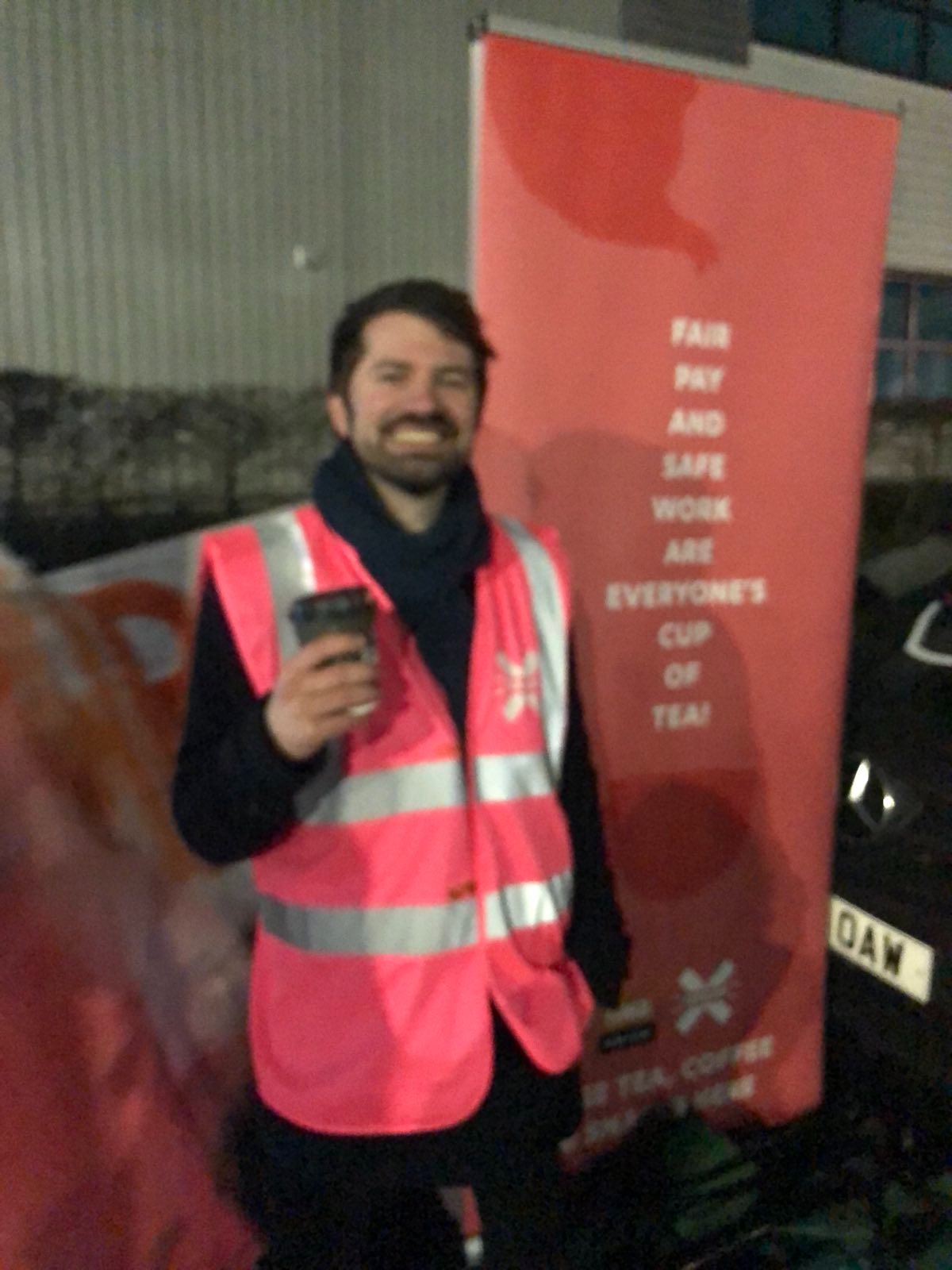 And folks getting their coffees: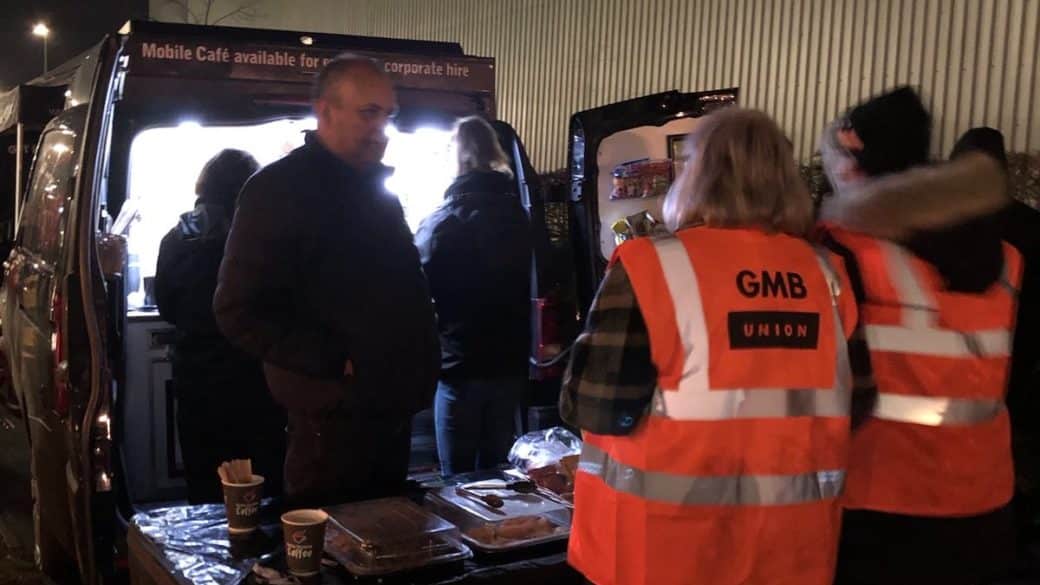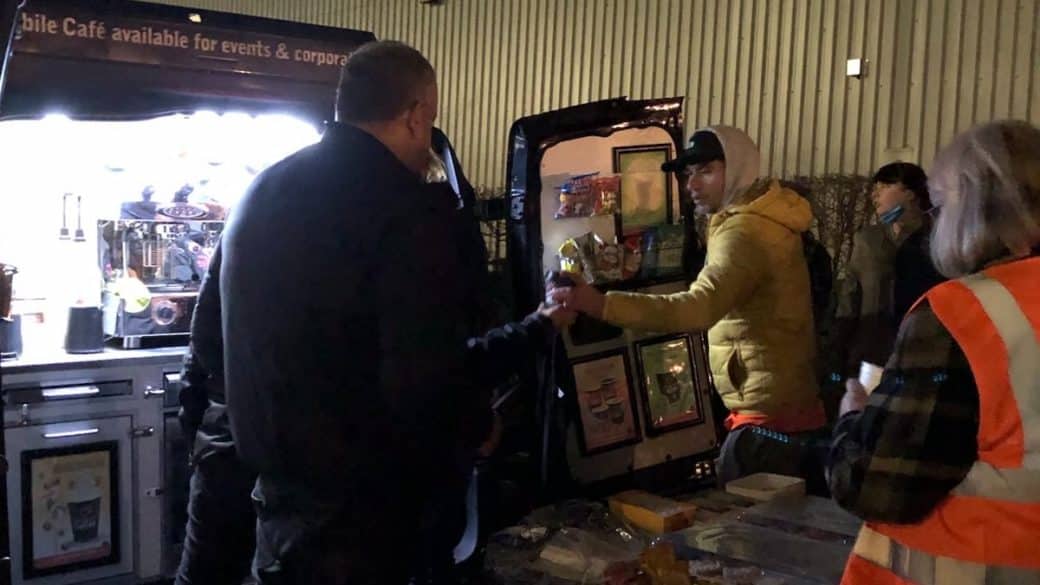 This work is just getting started. Amazon continues to insult its workers with wages that amount to real terms pay cuts, spying on them with invasive surveillance technology and setting impossible targets that wear down their bodies and lead to serious injuries.
We will continue to do everything we can to support Amazon workers in Coventry and around the UK, as well as the tremendous union organisers working with them.
If you would like to donate to the strike fund in Coventry to make sure workers can continue to take this brave action without losing their pay, hit the button below: