"Fair pay and safe work are everyone's cup of tea" – despatch from the GMB Black Friday rally in Coventry
Foxglove was hugely proud to support Amazon workers at a rally in Coventry last Friday for a strike ballot organised by the GMB union.
Watch two Amazon workers, GMB spokesperson Rachel Fagan and our own Cori Crider explain the situation in this video for joe.co.uk:
It's not the first time we've taken along refreshments to Amazon workers fighting for better pay and working conditions, but we thought it probably wasn't the right time of year for Mr Whippy.
So we loaded up a new van with free teas, coffees and hot snacks and took it up to Coventry for the rally, here's our Tom along with Stuart from GMB: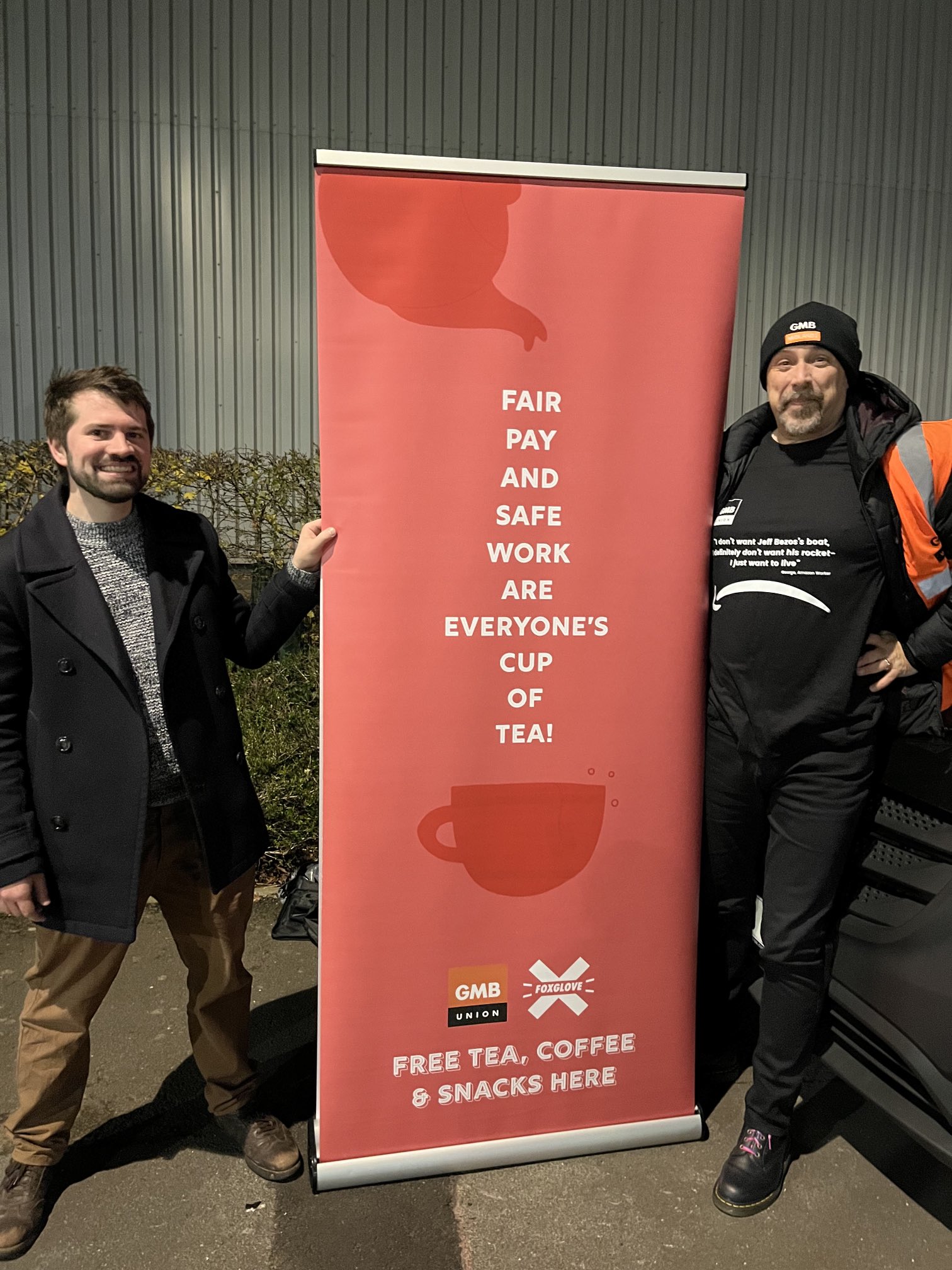 It was a brilliant rally, with speeches from Coventry MPs Taiwo Owatemi and Zarah Sultana, along with GMB's senior organiser in the region, Amanda Gearing, who's been working on the Amazon campaign for around a decade.
The most important voice at the rally however belonged to two Amazon warehouse workers, Darren and Emma. Darren described Amazon's union busting culture:
"We call if the Jeff Bezos playbook. Mentioning the union now on the shopfloor counts as hate speech. You can be dismissed for discussing it.
"We were told if you try to 'coerce' someone to join the union – so if you say to someone: 'do you want to join the union', and they say no, that's classed as coercion and you can be dismissed."
Emma gave a withering account of Amazon's safety record:
"Health and safety is a joke. The building's basically falling apart and yet they carry on and on saying safety is their main concern.
"And it's not. They push us and push us when they want to break records, or targets, and our safety goes out the window.
Darren also explained how Amazon workers are at the forefront of workers who we all relied on during the pandemic, who are now having to consider striking to be able to afford to feed their children and keep the heating on this winter:
"Not even 12 months ago, we were essential workers and now, here we are, told we're suddenly unskilled again.
"There just seems to be a pattern running through the country. You know, postmen, refuse collectors, train drivers. Everyone who worked through the pandemic is suddenly now asking for more money and they deserve more money."
We couldn't agree more. We're going to keep fighting to support Amazon workers – and will have more news soon on how we're taking on Bezos's exploitative micromanagement software. To keep up to date on all the details, hit the button below: