The Fox: Issue 4 – An Amazon UK special

Hello and welcome to the fourth edition of The Fox – a newsletter for all tech workers and allies, who are fighting for fair pay and decent work.
UK Amazon Special – mass walk outs
Snouts up foxes! We've an Amazon UK special today, as… well, to be honest, things are looking pretty grim in old Blighty right now.
Just about everything in the UK broke this summer. We've seen soaring food and energy prices, record-breaking heatwaves causing wildfires and roads and rail to break down, oh and ambulances are no longer turning up either.
It's been rough. For workers at Amazon's UK warehouses – most of whom have not had a pay rise since before the beginning of the pandemic – it has been a really hard time. But last month, they were told a pay rise was finally on the way.
The "rise" turned out to be a rise of just 35p (about 41 cents) per hour. WIRED describes the moment when workers found out about the "rise". And let's be clear, any pay rise below the rate of inflation – about 10.1% right now and forecast to hit 13% in autumn – is no rise at all, but a pay cut at a time when workers are fighting to pay for food and to keep the lights on.
Workers had been pushed beyond breaking point and began a series of walkouts across the country. Foxglove worked together with tech reporter Chris Stokel-Walker to put together these despatches from the frontlines of the action for the Observer.
You can also listen to workers speaking to the BBC here, from around 07:35. One worker revealed Amazon was asked to open a food bank in their warehouse, as colleagues with families were struggling to make ends meet.
35p? You cone do better than that Jeff!
The weekend after the first way of walkouts, yet another heatwave was due and, as this worker laid out to Insider, even without the record-breaking high temperatures, conditions inside warehouses are often way too hot anyway.
So, in the name of trying to raise a little morale and cool folks down, we took an ice cream van up to Amazon's warehouse in Tilbury, Essex, to hand out some free 99s and show solidarity.
Here's a picture of Foxglove's Tom living out his childhood fantasy of being an ice cream man for a day: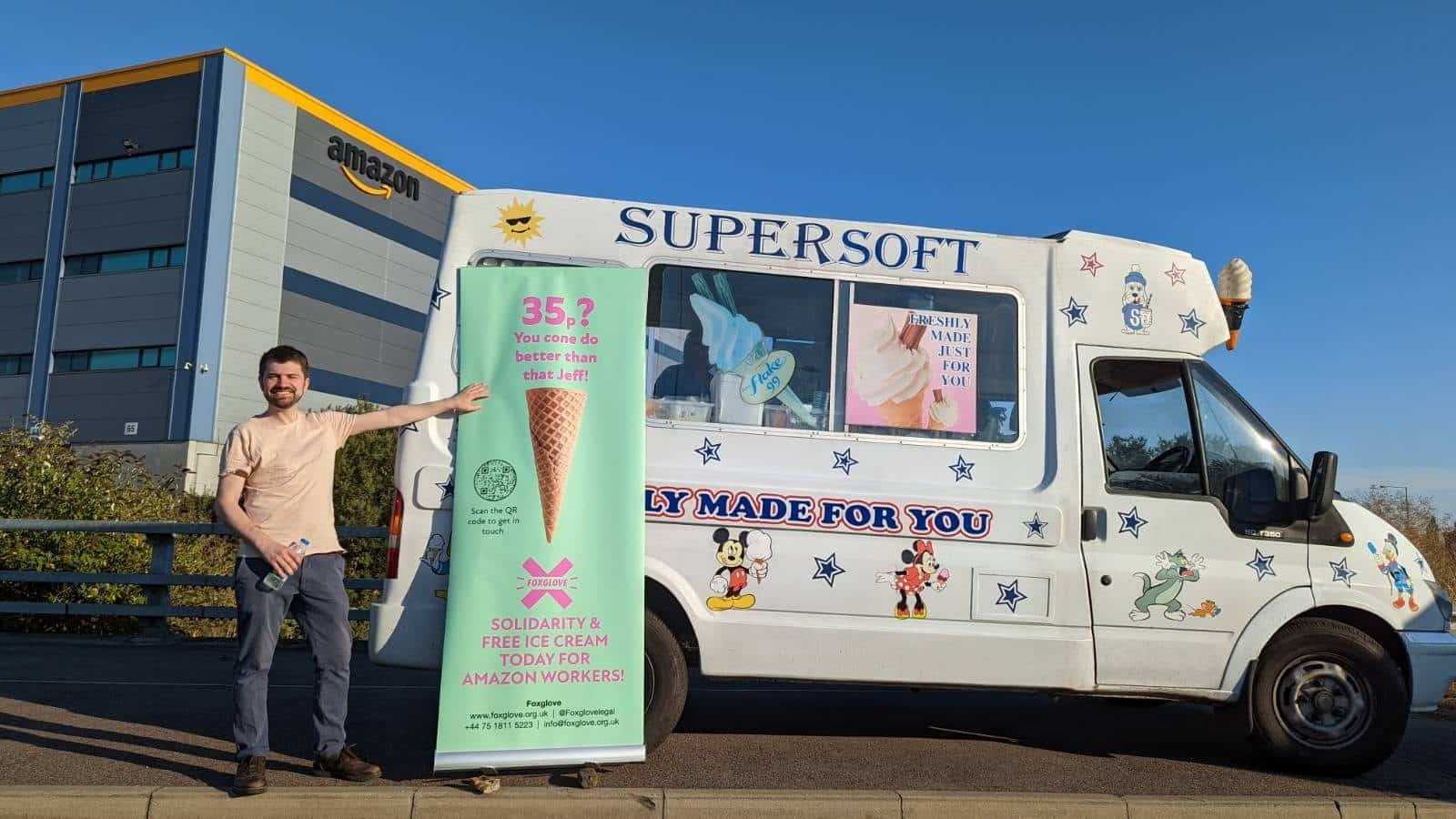 And you can read more about how we got on in more detail here.
It would be nice if free ice lollies and bad puns could embarrass Bezos, and UK boss John Boumphrey, into paying their workers what they deserve. But the only way of doing that is through the power of organised labour working together.
That's why we back GMB's call for all Amazon workers to join a union and fight back. We're going to do our best to keep getting workers' stories out there. If you'd like to speak to us in confidence, just text: +44 7518 115 223.
Until next time – That's All Fox.
Hit the button below to get the next edition of The Fox direct to your inbox as soon as it's ready.